Group Therapy for Addiction
One thing that can be very powerful in your journey to sobriety is knowing you aren't alone. People from all walks of life struggle with substance use disorders or mental health issues—or both. Unfortunately, they prevent people from living happy, healthy, productive lives. One of the best ways to see and understand that you have support on your path to recovery is through group therapy for addiction. A group setting where everyone is working towards the same goal is a safe place to open up about your struggles.
There are many benefits to group settings in addiction counseling, in addition support from peers. Two of the most helpful are learning better communication techniques and new life skills.
What Is Group Therapy for Substance Abuse?
Group therapy is a type of treatment that involves one or more therapists working with several people at once. This is different than individual counseling, where you meet one-on-one with a therapist. Group therapy can help with mental health conditions like depression, anxiety, and substance abuse. Groups can have anywhere from three or four participants to a dozen people participating, and they usually meet a couple times per week for an hour or two.
Group sessions offer a safe space to talk about personal feelings and experiences. Peers provide support as they share similar feelings. You can learn valuable coping skills and gain insight from each other through shared experience. Group members can also find acceptance and strength in numbers as they work on their health concerns.
The therapist that leads the group and the group members all work to create a safe, supportive environment during substance abuse treatment. It's a place where overcoming the struggles of addiction is a priority for all.
Group therapy is not only for people struggling with drug or alcohol addiction. It's often used to help with other mental health issues as well, in depression treatment, anxiety treatment, and more. It is also beneficial for people who are experiencing life changes or who have gone through traumatic events. Addiction often requires an individualized treatment plan, but group therapy can be an effective tool in recovery.
Group therapy is often one part of a treatment and sobriety plan. Other treatment methods include individual therapy sessions and holistic programs like yoga and meditation. And all these forms of therapy make up an overall addiction treatment program, which could be:
Group Therapy vs. Individual Therapy
Group therapy sessions provide a safe and supportive environment for individuals struggling with drug and alcohol abuse. Group members share their experiences, feelings, and challenges with substance use, and interactions with other group members provide insight into the thoughts and behaviors that lead to addiction. They can help you learn new ways to cope without substance use in recovery. Group therapy also encourages social support from others who may have similar experiences and goals in sobriety.
Group counseling offers other benefits when compared to individual counseling, such as:
Shared accountability among peers
Greater development of communication and behavioral skills
Increased sense of community
Reduced feelings of isolation or loneliness related to substance addiction struggles
Improved social skills
Increased self-esteem
Individual therapy is a form of treatment for substance abuse and other mental health issues, but it happens outside the group setting. It focuses on an individual's personal experiences, problems, thoughts, and feelings to help them make changes in their life. You'll meet one-on-one with a therapist, who provides support and guidance. The therapist may use addiction treatments like cognitive behavioral therapy (CBT) to assist in:
Identifying triggers for substance use
Developing coping strategies for cravings
Exploring unhealthy beliefs and behaviors that contribute to substance use
Building healthier relationships with family and friends
They also provide education about the alcohol and drug addiction treatment options available. That way, you can make an informed decision about how best to move forward with treatment.
What Are the Benefits of Group Therapy?
Group therapy is part of the solution for many people who need help overcoming substance abuse disorders. It's a unique place where members can discuss their thoughts and feelings without fear of judgment or criticism from others. That fosters healing among members and ultimately leads to positive change in their lives. It can give you a voice when you've had trouble finding one. It offers a way to relate to others who are on the same path and apply their learned skills and progress to your own journey.
It may seem scary to express your feelings with strangers at first, but the benefits of group therapy will appear as you listen and participate in group discussions. Knowing you're not alone is important. It can often feel like there's nobody who understands or can help when you're struggling with substance abuse and mental health.
Group therapy can be an important part of any substance use recovery plan. When used alongside other forms of therapy, people struggling with alcohol or drug addiction can gain the support they need to succeed in their sobriety journeys.
Types of Group Therapy
Not all group therapy is the same. There are five unique kinds of group therapy used to help treat addiction. They are:
Psychoeducational Groups
Education is the main purpose of psychoeducational group therapy for addiction. It teaches what addiction is and how mental health relates to substance abuse. Group members learn how to live healthy and productive lives, even post-trauma. They examine their own challenges with drugs and alcohol in life and apply what they've learned to help build strong foundations for addiction recovery.
Interpersonal Process Groups
Relationships are so important. Interpersonal process groups help people solve problems through communication and listening. Group members practice fostering healthy dialogue and building relationships in group. They then use those learned skills to improve their relationships in life.
Skills Development Groups
Learning life skills is an important part of being able to function in society. For those who struggle with drugs and alcohol, life skills can play an important role in dealing with triggers and preventing relapse. Skills like how to express yourself, how to manage your temper, how to deal with urges, and more are all effective in relapse prevention and prolonged sobriety.
Cognitive Behavioral/Problem-Solving Groups
You can get in your own way when it comes to recovery. Cognitive-behavioral and problem-solving groups focus on avoiding self-destructive behavior. Through learning skills, setting goals, and identifying damaging behavior, group members take another step towards sobriety.
Support Groups
Life is full of challenges. A support group, like Alcoholics Anonymous (AA), offers a place where you can voice your difficulties with anything in life and get constructive feedback from other members. Support groups emphasize accountability and peer support throughout drug or alcohol addiction treatment.
What Do You Talk About in Group Therapy for Addiction?
Many, many different topics can be covered in substance abuse group therapy. It's important to be a flexible participant and let conversations develop based on what the group needs.
That said, most group sessions focus on specific topics related to substance use or personal growth. Substance abuse group topics may include:
Addiction and mental health education
Relationships
Self-esteem
Self-care
Codependency
Trauma
Goal setting
Financial management
Conflict resolution
Impulse control
Stress management
Anger management
Some types of groups will have activities that put what you're learning into practice. For example, if you focus on stress-management techniques that promote recovery, you may be tasked to explore how you managed stress in the past and why those methods don't work now.
What Kinds of Drug Addiction Can Group Therapy Address?
Group therapy can be effectively be used to treat almost any substance abuse issue, including:
Vogue Recovery Center offers group therapy for addiction and other effective alcohol addiction and drug rehab options. Our experienced team of therapists is dedicated to creating safe and effective group therapy environments. There are many addiction treatments available when you get help from a certified treatment center.
Ready to change your life? Contact us today, and we'll do an insurance verification to see if you're insured for substance abuse treatment.
Resources:
Trusted & Accredited Addiction Treatment Centers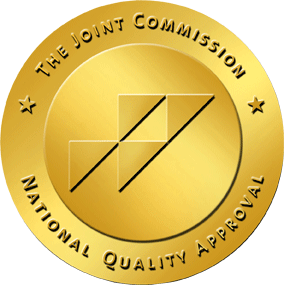 We're Here 24/7